Make a Donation for relief programme for the Manipur Violence 2023 victims
The state of Manipur has been ravaged by devastating ethnic violence and arson since May 3rd, 2023. Tragically, this has resulted in over 100 fatalities, with more than 5,000 people injured. The destruction includes over 4,000 houses, numerous villages, and more than 220 churches set ablaze. The aftermath left approximately 70,000 individuals displaced from their homes.
Data from the field
As of June 7, 2023, there are currently 12,838 internally displaced persons (IDPs) residing in 77 camps in Churachandpur, 10,305 in 47 camps in Kangpokpi, 8,000 in Moreh/Tengnoupal, 8,000 in the valley districts, and about 6,993 (in 7 camps) in neighboring Mizoram. In addition, there are 183 IDPs in 3 camps in Guwahati, 1 camp with 16 people in Delhi, and countless others affected.
These displaced families find themselves without homes or land to return to. The situation is dire, with an urgent need for essential supplies such as food, clothing, and medicine. Among those affected, women and children face heightened vulnerabilities. RWUS (Rural women uplifting society) has been at the forefront of providing relief since the very beginning.
RWUS has been distributing dry ration kits, medicines, mosquito nets, and clothing to those in need. Our focus remains on supporting pregnant women, lactating mothers, and children.
Current situation on the ground
Currently, the camps housing IDPs are being managed and supported by local community-based organizations (CSOs), civil society organizations (CBOs), and NGOs. In the initial days, local communities contributed clothes, firewood, rice, and vegetables. However, as the situation has worsened, even those who are less affected struggle to earn a living. There is an acute shortage of water in all the camps, leading to unhygienic living conditions. Health concerns, particularly for pregnant women, lactating mothers, and the elderly, are a pressing issue. Urgent requirements include food, medicine, hygiene kits, drinking water, undergarments, mosquito nets, mattresses, utensils, and clothing.
We are proud co-founders of Women in Governance (WinG), a network of women across districts in Manipur, and a national-level organization (WinG-India). Our mission is centered on equal distribution and justice for all. With 15 years of experience in humanitarian aid during conflict situations, we are well-versed in the challenges and dynamics of such crises. We have also received training in Local Capacity for Peace (LCP) and have established partnerships with Action Aid and Sphere India for our humanitarian work.
Our relief efforts have made a significant impact thus far. As of May 27th, 2023, we have reached 1,604 IDPs, including 4,566 females, 3,464 males, 1,750 children, 364 elderly individuals, 104 pregnant women, and 320 lactating mothers. The aid provided includes food, sanitary napkins, medicines, and more.
Donate Online
To support our ongoing relief efforts, we have partnered with the Milaap crowdfunding platform and Danamojo. Through these two secure crowdfunding gateway, individuals can make online donations of any amount to contribute to the cause.
Together, we can make a difference and provide crucial assistance to the affected communities. Your contribution will go a long way in alleviating their suffering and helping them rebuild their lives. Make a donation through Milaap and be a part of the relief efforts.
Tentative budget for relief operation: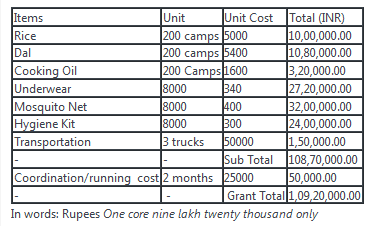 Our bank details (Local)
Name of Account Holder: Rural Women Upliftment Society
Bank Account No: 11343704664
Name of Bank: State Bank of India
Branch: Churachandpur branch (6189)
IFSC Code: SBIN0006182
Address: Tiddim Road , Lamka – 795128
Churahcnadpur , Manipur
FCRA Bank Account:
Name of Account Holder: Rural Women Upliftment Society
Bank Account No: 40100574814
Name of Bank: State Bank of India
Branch Code: 00691
IFSC Code: SBIN0000691
Swift Code: SBININBB104
Address: FCRA Cell, 4th Floor, State Bank of India, New Delhi Main Branch,
Sansad Marg, New Delhi-110001, India.
Contact Details :
Mary Beth Sanate
Secretary, RWUS
Contact : +91 8974748864
Rural Women Upliftment Society
Sielmat, Post Box -3, Behind Gospel Centenary Building, Churachandpur, Manipur , India
** All legal documents of our organisation can be checked at our website:  https://rwus.org/about-us/legal-documents/
Dear compassionate friends,

The devastating ethnic violence and arson that unfolded in Manipur since May 3rd, 2023, have left a trail of destruction, claiming the lives of over 100 people, injuring more than 5,000, and displacing an estimated 70,000 individuals. Numerous homes, villages, and churches have been reduced to ashes, leaving families without shelter or land to return to. The situation is dire and urgent assistance is needed. The Rural Women Upliftment Society (RWUS) has been actively engaged in relief work from the very onset, providing essential aid such as dry rations, medicines, mosquito nets, and clothing to 69 camps. Our efforts have particularly focused on the most vulnerable, including pregnant women, lactating mothers, and children. However, the scale of the crisis demands more extensive support.

The displaced families in camps are currently being managed and supported by local CSOs/CBOs and NGOs. Initially, the local communities rallied together, contributing clothes, firewood, rice, and vegetables. However, as the situation worsens, even those less affected are struggling to earn a living. The camps suffer from acute water shortages, unsanitary living conditions, and grave health concerns, especially for pregnant women, lactating mothers, and the elderly. Urgent requirements include food, medicine and hygiene kits, clean drinking water, undergarments, mosquito nets, mattresses, utensils, and clothing.

RWUS is a co-founder of Women in Governance (WinG), a network of women operating across districts in Manipur and at the national level through WinG-India. Our organization firmly believes in equal distribution and justice for all. With 15 years of experience in humanitarian aid during conflict situations, we are equipped to navigate the challenges posed by this crisis. We have also received training in Local Capacity for Peace (LCP) in collaboration with esteemed organizations like Action Aid and Sphere India for our humanitarian efforts.

The assistance we have provided includes essential items such as food, sanitary napkins, medicines, and more.

However, we cannot address this immense crisis alone. We earnestly appeal to your generosity and empathy to support our cause. Your donation, no matter the amount, will make a significant difference in alleviating the suffering of those affected by this tragedy. Together, we can provide much-needed relief, restore hope, and rebuild the shattered lives of the displaced families in Manipur.

Please join us in this critical mission by contributing to our relief efforts today. Your support will bring solace and help us provide the necessary aid to those who need it most. Thank you for your compassion and for standing in solidarity with the people of Manipur during these trying times.

With heartfelt gratitude,

Mary Beth Sanate
Secretary
Rural Women Upliftment Society (RWUS)
Churachandpur, MANIPUR, INDIA
https://rwus.org/about-us/management/
keywords: make a donation, sample letters asking for donations, donation call to action, donation website, make a wish donation, donate money, make a wish wishes, make a wish application, donate to planned parenthood, network for good, online fundraising platforms