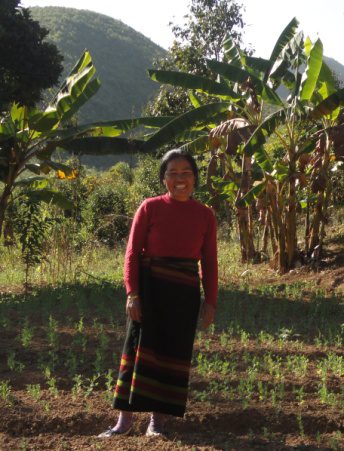 Mrs Sangpui, age 35 is a mother of three children. She lives in Muolbem village, Churachandpur, Manipur, North East India. She raised her three children with her minimal income from growing vegetables in the slop- land and collecting and selling of forest food products to local market.
She is concern about the forest degradation as she witness rapid decline of forest products and losing its richness and bounty but was not really aware of its causes and how to protect the forest and its environment on her own. Her simple understand was such that one will always get forest products in abundant and the forest will continue to regenerate on its own.
After attending several workshops, trainings and participating in activities relating to women and environment, she is more aware of the issue and realized her responsibility in protecting the land and forest.
This year she planted 1000 banana saplings. She share: "each time I plan a tree I realized that I am contributing in small way to sustain the livelihood of forest dependants like me  but also toward global warming" Now, each time she cut a small tree she plant one new tree and nurture it.