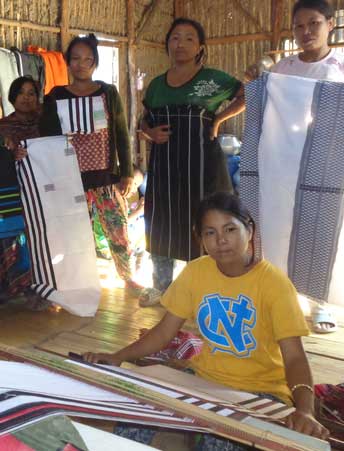 Genevi SHG from New Saikawt village was formed in March 2013 with 7womenfrom BPL family. Most of the group members earned their living byLoin Weaving. In spite of the excitement they had at the beginning of the group inception, they became anxious for some time due to financial crisis,but after attending several meetings and encouragement they received from IGP training conducted by RWUS they were motivated to renew their strength to make use of their skill of weaving, last January 2015. They were given a Matching Grant amounting Rs.10000 (Ten Thousand). With this they took up an IGP on weaving. Each member takes part in this and the products is sold in the neighbouring state of Manipur. They excitedly told RWUS that if selling goes well they will be able to make a profit of Rs. 3000/- per month.
Mrs. Ruthi, the Treasurer of the group said that before they joined the group they were timid but now after joining several training in RWUS they felt that their inner strength were alleviated.
Apart from weaving they make and sell Dish Wash, and also now they are intending to start a small business on Kitchen needs i.e Foods Items which they used to buy from others.