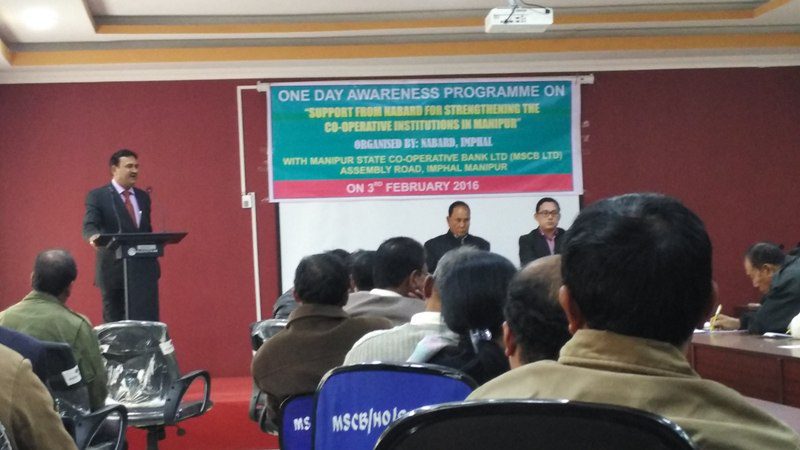 Of engaging rural youths gainfully by NABARD: A nice economic initiative for Manipur
Of all organisations, organisation of mind is most difficult, but most important. Unorganised minds produce unorganised society punctuated by syndrome of terrible troubles arresting the economy into the shackles of stagnation. Increasing burden of life in small world negates all charms of life including the spirit of success and achievement which is the lifeblood of growth. Here one finds reckless misuse of basic assets of development such as Land, Labour and Time. Now-a-days the distinction between economies is made with reference to the degree of care with which the resources are used. The failure to apply right use of resources means not only the immediate loss but also the opportunity cost.
Look at advanced countries which are efficiency and innovation driven, where waste turns into wealth. What can you expect from the economy which is neither efficient nor innovative? We cannot handle difficult challenges in the competitive era with only common sense. In advanced countries Think –Tanks manufacture and make available the menu of alternative choices in the knowledge-market for both academic and practical consumptions. Of course, the final decision is taken by political masters who get the foods for thought digested and take appropriate decision. Both short-term and long-term advantages and disadvantages are dovetailed and harmonised to avoid the possible tantalizing future. But very interestingly in underdeveloped and highly unorganised states like Manipur, there is no happy marriage between short term gains and long term contributions. The age-old issue of overlooked concerns, unattended grievances and neglected tensions remains threatening.
We have to accept the hard fact that MANIPUR LIVES IN THE VILLAGES virtually without any structural change. Look at the unchanged resources used, unchanged technology, unchanged composition of farm produce and unchanged marketing behaviour. Rural stagnation has ripple effect on the production, consumption and distribution of the whole economy.
Even after 67 years of economic planning in the country, 55% of rural employment is accounted for by agriculture and allied activities, followed by 9% of industrial sector and 38% by service sector. The relationship between farm and non-farm sector is extremely weak.
Agriculture in Manipur is essentially meant for mere survival, not for development. Marketable surplus is extremely low. It has become a losing engagement. It is not a surprise that 30% of households are in debt. Nearly 40% of the farmers are reportedly prepared to change the track. The rising trend of dispossession of land for alternative engagement speaks volume while Manipur is facing the problem of food deficiency. In fact, without the help of Food Corporation of India our stomach may remain empty.
The turn of the event has another deeper implication. The rural masses have now been exposed to the aggressive world of mass production mainly after globalisation; duly abetted by the inherent culture of high propensity to consume and ever enlarging phenomenon of consumerism under the harmful influence of Demonstration Effect, while they are not adequately given advantages of wide range of economic opportunities, social empowerment and built-in-mechanism against a number of risks. Downward spiral of poverty is by and large responsible for massive erosion on local resources including environmental destruction. Rising trend of migration to Imphal town brings with itself a number of problems. In short, the youth in Manipur are in wilderness in this troubled age. A number of ugly events of demographic disaster on a slightest pretext vitiate the entire atmosphere.
Two issues remain paramount. Lack of physical connectivity remains a major challenge. Externally, the state is inadequately linked with the rest of the country and internally, the state is marked by the abject state of transport and communication. The national highways, the state highways and the inter-village roads have yet to ensure their respective efficiencies particularly during rainy season. It must be kept in mind the low physical connectivity is invariably accompanied and followed by delayed technological change. Manipur is not free from the fear of failure.
Secondly, the low ground level credit is another challenge. Look at the dismal picture of financial inclusion. Bank branch per 1000 sq. km. is only 3. Population per branch is 33602 as against All India Average of 13916.
The per capita credit is only Rs 4170 as against Rs.19188 of Sikkim and All India Average of Rs. 27188 (2009-10). People in the rural areas feel that the banks are meant for the rich,— not for the poor. This is one of the reasons why informal rotating credit associations are flourishing in Manipur. This is not a good sign.
The recent attempt of NABARD for more engagement in non-farm activities, though encouraging from different perspectives, may not necessarily be smooth sailing in a state like Manipur where inter-sectoral and inter-departmental understanding is fairly weak. There is a need for better institutional understanding with other departments. Besides, the state is facing the acute problem of professional backwardness, low level of discipline and work culture. Lack of consistency is another issue. Engaging Rural Youth Gainfully demands a change of outlook and motivation.
by Mohendro Nandeibam
The writer was a Member of State Planning Board, Government of Manipur. (e-mail: profnmsingh@gmail.com)
Courtesy: https://www.thesangaiexpress.com/