RWUS Fight Covid 19 Corona virus
Rural Women Upliftment Society (RWUS) is a women's organization located in Churachandpur, Manipur that was founded in 1990. The organization is dedicated to working towards gender justice and development and focuses on three major themes: women's leadership, livelihood and food security, and the environment. The organization's engagements are visible from grassroots to national and international forums, thanks to its active involvement in women's collectives and a wide network of NGOs.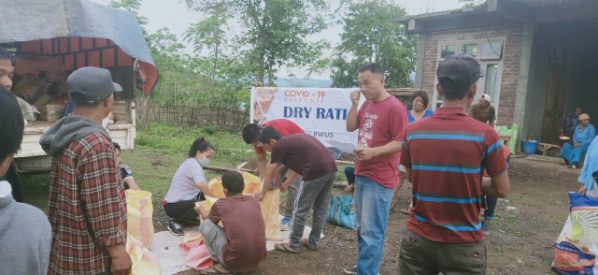 However, when the coronavirus pandemic hit India, development works were halted. RWUS witnessed the plight of poor communities and decided to contribute to the fight against the coronavirus. The organization mobilized Covid funds from various sources within the country and abroad to provide assistance to those affected by the pandemic. During the initial stages of the lockdown, RWUS distributed dry ration items to 700 poor families, widows, and marginal farmers in Churachandpur district. The dry ration distribution was carried out in collaboration with village task forces.
As the number of COVID patients surged in the state, RWUS shifted its intervention from dry ration to health and safety measures. RWUS joined the coronavirus fight alongside frontline workers such as doctors, nurses, ASHA workers, police, ambulance services, village task forces, volunteers in quarantine centers, media houses, and more. During the month of June, RWUS provided 100 PPE kits, 2,000 hand sanitizers, 2,000 hand gloves, 5,000 facemasks, and 20 disinfectant sprayers to be used by frontline workers. The organization also provided health and safety kits to 43 community quarantine centers in the district, 100 ASHA workers, the Medical Department, ambulance drivers, and the police department in Churachandpur district.
From the end of June, RWUS expanded its activities to raise awareness about COVID-19 and launch action-oriented campaigns to follow safety rules, including online campaigns to promote wearing facemasks. The RWUS team consists of young development workers, and some of its members spearheaded the COVID fight day and night, including Mary Beth Sanate, Chief Functionary, Hrilrohnem, Samuel Sakum (Manager), Benjamin (B R Sanglien), Deborah Lalsiemtling, Melody Zairemmawi, Christopher, Daniel Lalringsan, Thangpui, and Rama.